On July 9th, 10 AM we are running the multi-table special event: The King in Thorns for PF2 levels 1-8.
There may not be another opportunity in Colorado to play or GM this event.
We will also be raffling off special Pathfinder related items and re-rolls to raise money and a $15 minimum donation is encouraged for participation.
This is a charity event. All money raised by this event goes to benefit the Backpack Bash by COSILoveYou
Cash is recommended but all electronic donations can go to: https://www.paypal.com/donate/?hosted_button_id=FVETJCEF4XRBJ
This special program provides backpacks and school supplies to kids in the Colorado Springs area. Last year, they assisted over 12,000 kids in our area and we want to help them do more this year.
More information on the BackPack Bash and COSILOVEYOU can be found here:
https://backpackbash.com/
Pathfinder Society Scenario #2-00: The King in Thorns (special multi-table event)
A Pathfinder Society Scenario designed for levels 1–8 (Subtiers 1-2, 3-6, 7-8).
In the jungles of the Mwangi Expanse, a large group of Pathfinders stands ready to travel beyond a magical gateway whose mysteries stymied a group of the Pathfinder Society's founders. What lies beyond the doorway is also the crux of the plot of an ancient evil fey, the Thorned Monarch. Will the Pathfinders unlock lost fey magic, restore buried secrets from the Society's history, and purge the world of the Monarch's evil, or will they fall before the fey's minions and tricks?
Tables are linked during play and players have the opportunity to buy items for in-play use.
Raffles will also be available with all proceeds going to the Backpack Bash.
Part of the fund raising items for sale:
Paizo Hero Cards $1 before game begins; $2 after game starts.
Reroll Potions $2 each or 3 for $5
Raffle Tickets for various Paizo and gaming related items: $5 each
Sign up by notifying the store or contact Everett Morrow:
everettmorrow5@yahoo.com (719) 433-6491
Players may also sign up on RockymountainPFS.com.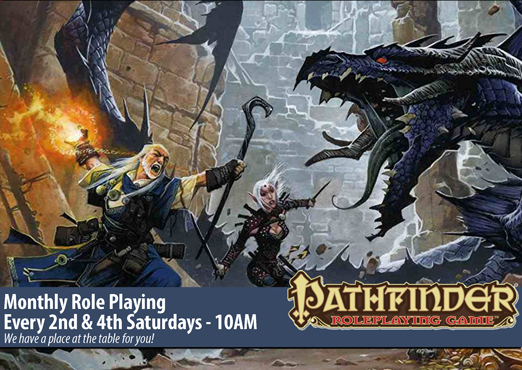 Pathfinder and Starfinder run every 2nd and 4th Saturdays. Pathfinder at 10 and Starfinder or a second session of Pathfinder at 2!
Visit https://www.rockymountainpfs.com/ for reservations or call the store.