When:
September 25, 2021 @ 1:00 pm – 5:00 pm
America/Denver Timezone
2021-09-25T13:00:00-06:00
2021-09-25T17:00:00-06:00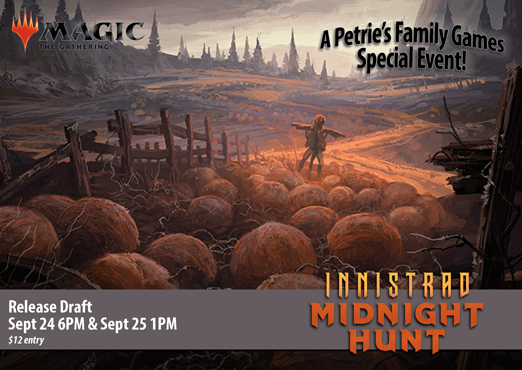 Beware of creatures that lurk in the shadows! The Harvesttide Festival is on the horizon, and werewolves and warlocks roam! Welcome back to Innistrad!
Innistrad: Midnight Hunt begins our new story ripped right from the worries of Innistrad's populace: a night that may never end. With the sun rising later and setting sooner each day, they turn to the hope of the Harvesttide festival and a ritual with warlocks to maintain the balance. Despite plenty of werewolves and other denizens of the night, there's strength and hope for the humans gathered deep in the woods of the Kessig countryside. But the story doesn't end there with one bonfire of a party.
The new set is officially here! Celebrate with us as we host two draft events. Friday night at 6PM and Saturday afternoon at 1PM are $12 each.
Remember, Petrie's is a family friendly environment. No unfriendly trash talking, foul language, intimidation or inappropriate conversation. Managers and judges have the right to eject any player violating the house rules with no refund.
By attending any event as a participant you agree to play by all house & game rules, including maintaining social distancing and wearing a mask covering your mouth and nose. Additionally, you understand that the Play Space and all events held within are a privilege & release Petrie's Family Games of all liabilities. When signing in for any event at Petrie's you declare, to the best of your knowledge, you have not had a cough, fever, or other symptoms of COVID-19, have not been involved in extensive traveling in the last 14 days, nor have you been exposed to anyone else that has been sick within the last 14 days.