When:
October 16, 2021 @ 3:00 pm – 6:00 pm
America/Denver Timezone
2021-10-16T15:00:00-06:00
2021-10-16T18:00:00-06:00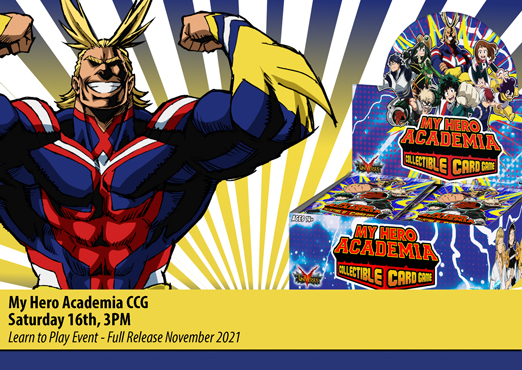 In the My Hero Academia CCG, you'll build powerful decks around the students of Class 1-A and the heroes and villains that surround them, battling rivals with an all new collection of cards developed around the characters and quirks of the fan-favorite (okay and our favorite) series.
This is a learn to play event only, using a limited supply of wave 1 cards. Full product release is November 2021.
Remember, Petrie's is a family friendly environment. No unfriendly trash talking, foul language, intimidation or inappropriate conversation. Managers and judges have the right to eject any player violating the house rules with no refund.
By attending any event as a participant you agree to play by all house & game rules, including maintaining social distancing and wearing a mask covering your mouth and nose. Additionally, you understand that the Play Space and all events held within are a privilege & release Petrie's Family Games of all liabilities. When signing in for any event at Petrie's you declare, to the best of your knowledge, you have not had a cough, fever, or other symptoms of COVID-19, have not been involved in extensive traveling in the last 14 days, nor have you been exposed to anyone else that has been sick within the last 14 days.