When:
September 10, 2022 @ 2:00 pm – 6:00 pm
America/Denver Timezone
2022-09-10T14:00:00-06:00
2022-09-10T18:00:00-06:00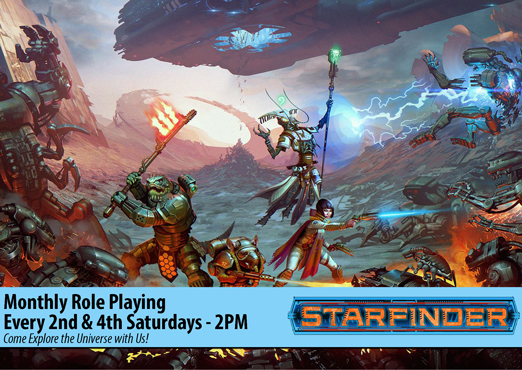 Pathfinder and Starfinder run every 2nd and 4th Saturdays. Pathfinder at 10 and Starfinder or a second session of Pathfinder at 2!
Visit https://www.rockymountainpfs.com/ for reservations or call the store.
10 AM Pathfinder 2E Scenario
Pathfinder Society Scenario #3-03: Echoes of Desperation
Venture-Captain Finze Bellaugh at the Anthusis Lodge in Vidrian recently came into possession of a magic bell that was plundered from a community of Song'o halflings living somewhere in the Laughing Jungle. He believes the bell is a critically important object to this community, and he needs a group of skilled Pathfinders to learn precisely where the bell came from, then return it to its rightful owners. The PCs soon discover there is more to the bell's story, and returning it is no simple matter!
GM: Randy Williams
Player 1:
Player 2:
Player 3:
Player 4:
Player 5:
Player 6:
2 PM Starfinder Scenario
Starfinder Society Scenario #4-03: Battle for the Beacon
A Starfinder Society Scenario designed for 5th through 8th-level characters. Starfinders sent to repair a malfunctioning Drift Beacon encounter two factions both vying for control of the object. Even if they can solve the situation and fix the Beacon, a surprising development awaits them when they return to Absalom Station.
GM: Randy Williams
Player 1:
Player 2:
Player 3:
Player 4:
Player 5:
Player 6:
The event ID on Paizo's website is 2708869
RSVP Recommended
Remember, Petrie's is a family friendly environment. No unfriendly trash talking, foul language, intimidation or inappropriate conversation. Managers and judges have the right to eject any player violating the house rules with no refund.
By attending any event as a participant you agree to play by all house & game rules, including maintaining social distancing and wearing a mask covering your mouth and nose. Additionally, you understand that the Play Space and all events held within are a privilege & release Petrie's Family Games of all liabilities.