When:
August 14, 2021 @ 10:00 am – 2:00 pm
America/Denver Timezone
2021-08-14T10:00:00-06:00
2021-08-14T14:00:00-06:00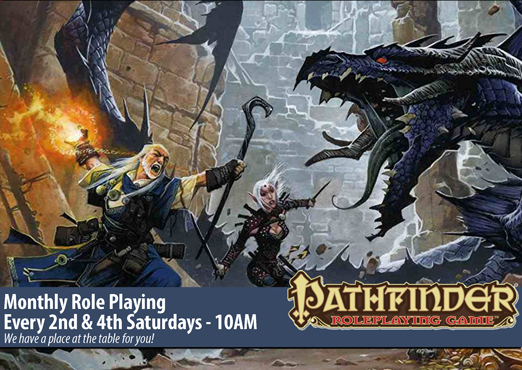 Pathfinder and Starfinder run every 2nd and 4th Saturdays. Pathfinder at 10 and Starfinder or a second session of Pathfinder at 2!
Visit https://www.rockymountainpfs.com/ for reservations or call the store.
10 AM Pathfinder 2E Scenario
#3-01 Pathfinder Society Introduction Year of Shattered Sanctuaries (Level 1-4)
A recently inducted Pathfinder field agent makes a startling discovery as pleas for assistance flock to the Society's Grand Lodge from across the Inner Sea. A group of Pathfinders come to assist in parsing the ongoing damage to the Society when a staunch ally requests their assistance. Stepping into a problem close to home, the agents quickly uncover a larger plot set to tear the Society apart and that it's up to them to raise the alarm!
of this new threat.
GM: Everett Morrow
SIGN UP LINK: RPG Chronicles 3-01 Sign Up Sheet
2 PM Starfinder Scenario
#4-01 Introduction Starfinder Society Year of the Data Scourge (Level 1-4)
As they return home from a successful mission, a team of Starfinders are caught in the chaos of an ongoing digital attack on Absalom Station. Can the PCs battle their way through malfunctioning technology, hostile robots, and panicked crowds to help defend headquarters, or will the Society's most important digital assets be corrupted by the Data Scourge?
GM: Everett Morrow
SIGN UP LINK: RGP Chronicles 4-01 Sign up sheet
Remember, Petrie's is a family friendly environment. No unfriendly trash talking, foul language, intimidation or inappropriate conversation. Managers and judges have the right to eject any player violating the house rules with no refund.
By attending any event as a participant you agree to play by all house & game rules, including maintaining social distancing and wearing a mask covering your mouth and nose. Additionally, you understand that the Play Space and all events held within are a privilege & release Petrie's Family Games of all liabilities.