FREE RPG DAY SCHEDULE
Table 1
10AM – Starfinder (Everett tentative)
The Starfinder Four vs. the Hardlight Harlequin – POWER UP!
Everyone across the galaxy enjoys the occasional diversion in a holographic amusement chamber, whether it's relaxing on a sandy beach or taking part in an action-packed adventure on a war-torn battlefield from the safety of home. But what happens when the digital settings and inhabitants of these simulations come to life and threaten a group of innocent fun seekers?
Thanks to some inadvertently malicious code created by a proud game designer, such a calamitous event has occurred on a small moon hosting an entertainment expo! The building is slowly but surely being digitized while the game designer's mind has been taken over by a comic-book villain. Only a group of newly recruited Starfinders can save the day!
Player 1:
Player 2:
Player 3:
Player 4:
Player 5:
Player 6:
2PM – Dune (Brandt)
6PM – The Witcher (Luke)
Table 2
10AM – Dungeons & Dragons (Lenny)
2PM – Mork Borg (Josh)
6PM – Kids on Bikes (Nick)
Table 3
10AM – Iron Kingdoms (Kaleb)
2PM – Quest (Matt)
4PM – Sentinel – Abridged, but with character creation (Matt)
6PM – Star Trek (Matt)
Table 4
10AM – Jackals (Becca)
2PM – Black Rose (Bruce)
6PM – Dread (Teddy)
Table 5
10AM – Kids On Bikes (Nick)
2PM – Epic Encounters: The Hills Have Legs (Ariana)
4PM – One Page Adventures (Grant)
6PM – 7th Sea (Jarred)
DURING THE MONTH OF OCTOBER, WEDNESDAY NIGHT D&D IS HOSTING 2-3 TABLES OF THE CURSE OF STRAHD. TABLES WILL BE SET THE TASK TO BEAT STRAHD IN THE ALLOTTED TIME. THIS IS A LONGER EVENT THAN NORMALLY HIGHLIGHTED DURING WEDNESDAY NIGHTS WITH THE INTENTION TO HELP FOSTER A STRONGER PLAYER COMMUNITY. The Rules: Players start at level 3, following AL guidelines for books and advancement. Players are welcome and encouraged to use the Curse of Strahd book for group planning, however, the book, monster manual, and other campaign related resources are not allowed at the table during play. Players should come to the table prepared. Adherence to the Petries store policies and rules must be followed. This includes current CDC safety guidelines at the time of play. The group must gather one of the three special artifacts as well as defeat Strahd to win. DMs will gather and iron out details, possible issues, and rules with everyone in this event. Additionally, a Petrie's Discord server is available so players can communicate outside of the game to plan and prepare.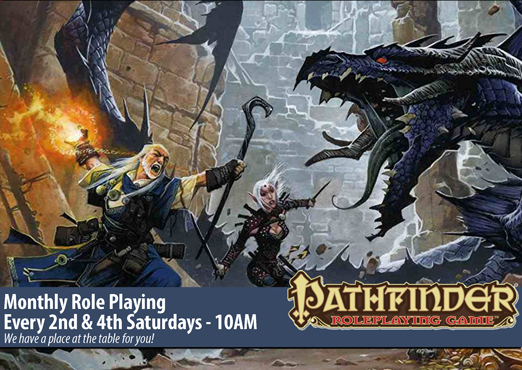 Pathfinder and Starfinder run every 2nd and 4th Saturdays. Pathfinder at 10 and Starfinder or a second session of Pathfinder at 2!
Visit https://www.rockymountainpfs.com/ for reservations or call the store.