When:
June 24, 2022 @ 6:00 pm – 10:00 pm
America/Denver Timezone
2022-06-24T18:00:00-06:00
2022-06-24T22:00:00-06:00
Magic the Gathering: Constructed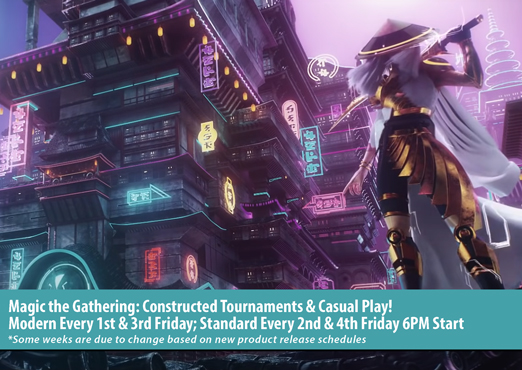 Friday Night Magic Schedule for THROUGH May
Apr 22 – Sealed PreRelease
Apr 29 – Draft Release
May 6 – Modern
May 13 – Standard
May 20 – Modern
May 27 – Standard
1st & 3rd Fridays are Modern and 2nd & 4th Fridays are Standard. This may be broken-up based on new product release schedules.
In the occurrence of a 5th Friday, the default is Commander unless otherwise announced.
$0 if less than 6 participants, otherwise $5 Entry – 16 person max
6PM – 10PM
New Players Welcome – Recommended Age 13+
Room Host: Daniel O'Connor or MJ Franklin
Prize Pool: All entry goes into prize pool divided by top 4 players after 3-4 rounds. Promo cards and other prizes available for all attendees.
Remember, Petrie's is a family friendly environment. No unfriendly trash talking, foul language, intimidation or inappropriate conversation. Managers and judges have the right to eject any player violating the house rules with no refund.
By attending any event as a participant you agree to play by all house & game rules, including maintaining social distancing and wearing a mask covering your mouth and nose. Additionally, you understand that the Play Space and all events held within are a privilege & release Petrie's Family Games of all liabilities. When signing in for any event at Petrie's you declare, to the best of your knowledge, you have not had a cough, fever, or other symptoms of COVID-19, have not been involved in extensive traveling in the last 14 days, nor have you been exposed to anyone else that has been sick within the last 14 days.