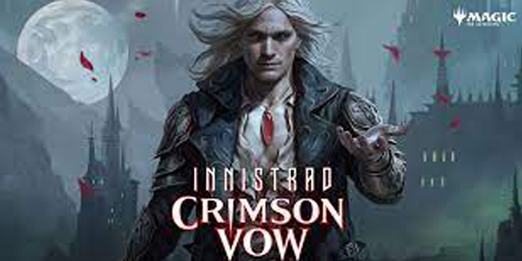 Innistrad Crimson Vow arrives today! Tonight we start the celebration with a draft of the new cards. This will be a $12 entry with one extra pack per player being added to the prize pool along with other promos. Plus we're carrying over our prerelease price for all Crimson Vow products through the weekend! Saturday the 20th we have a second draft planned for 1PM and we'll do it all over again!
Wizards of the Coast has done something unique with this latest releases. Essentially, this return to the world of Innistrad is a reminder of the old block system of releasing sets similar to one another. Starting with Midnight Hunt we saw a focus on the werewolves, and now with Crimson Vow we are back to the Vampires and those that oppose them. This will lead to a joint release early next year when both will be brought together in the much anticipated double-feature release, which also brings the art back to a silver screen Hollywood look. For monster fans, this is a great set dripping with theme.
Petrie's currently has everything for Crimson Vow in stock so come sink your teeth into it before it flies away (sorry… couldn't resist).
EVENT RECAP!
November 19 – Draft $12 entry – 6PM
November 20 – Draft $12 entry – 1PM