When:
September 11, 2021 @ 10:00 am – 2:00 pm
America/Denver Timezone
2021-09-11T10:00:00-06:00
2021-09-11T14:00:00-06:00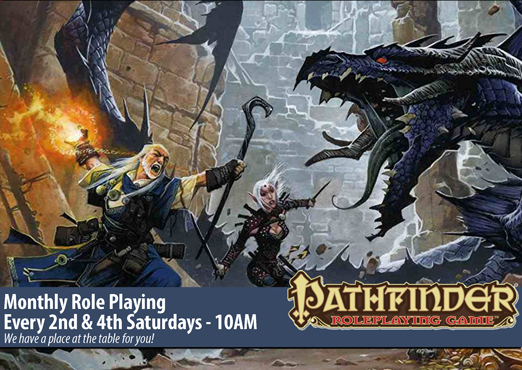 Pathfinder and Starfinder run every 2nd and 4th Saturdays. Pathfinder at 10 and Starfinder or a second session of Pathfinder at 2!
Visit https://www.rockymountainpfs.com/ for reservations or call the store.
Saturday September 25th
10 AM PF2
2-01: Citadel of Corruption (Level 1-4)
A new year dawns for the Pathfinder Society. For the past several years, Pathfinders have explored the edges of the Iobarian wilderness, making new allies and discovering hints at a long-forgotten past. Now, the Decemvirate has decided that it is time for the Pathfinders to do what Pathfinders do best: explore, report, and cooperate! In an ancient cyclopean ruin, the Society seeks to stake their claim with both a new lodge and, hopefully, new insights into Iobaria's remote history. Some secrets are best left buried, however. Will the PCs make a name for themselves as modern day explorers, or will the evil lurking at the heart of the Iobarian dig site consume their hopes and dreams?
2 PM Starfinder Society
3-01: Crash Down (Level 1-4)
While undertaking a routine surveillance mission to an uncharted world in the Vast, a freak accident occurs that causes the PCs' starship to crash on a nearby planetoid. Caught without another ship for assistance, it's up to the heroes to survive for several weeks as another Starfinder starship can be dispatched to rescue them. Can the PCs survive before succumbing to the dangers of an unexplored alien planet?
Saturday October 23rd
10 AM PF2
2-03: Catastrophe's Spark (Level 1-4)
In the ruined cyclopes city of Min-Khadaim, the Pathfinders search for answers into the disappearance of one of their own and the nature of a dangerous ritual. As the Pathfinders delve ever deeper into Iobaria's lost past, will they find the answers they seek, or will they uncover even greater dangers than those that have already been unleashed?
2 PM Starfinder Society
3-03: Frozen Ambitions: The Shimmerstone Gateway (Level 1-4)
An important leader in the Veskarium approaches the Starfinder Society to explore a mysterious magical portal that suddenly activated on the frigid world of Vesk-8. Travelling through the portal, the PCs quickly find themselves in over their heads and needing to find a way back to civilization.
Content in Frozen Ambitions is an ongoing series of adventures set in the Year of Exploration's Edge. These lower-level adventures are the perfect starting point for any new Starfinder character, and can be integrated into almost any ongoing campaign with little extra effort. While it is encouraged to begin with this adventure, the adventures in the Frozen Ambitions series can be played in any order.
RSVP Recommended
Remember, Petrie's is a family friendly environment. No unfriendly trash talking, foul language, intimidation or inappropriate conversation. Managers and judges have the right to eject any player violating the house rules with no refund.
By attending any event as a participant you agree to play by all house & game rules, including maintaining social distancing and wearing a mask covering your mouth and nose. Additionally, you understand that the Play Space and all events held within are a privilege & release Petrie's Family Games of all liabilities. When signing in for any event at Petrie's you declare, to the best of your knowledge, you have not had a cough, fever, or other symptoms of COVID-19, have not been involved in extensive traveling in the last 14 days, nor have you been exposed to anyone else that has been sick within the last 14 days.